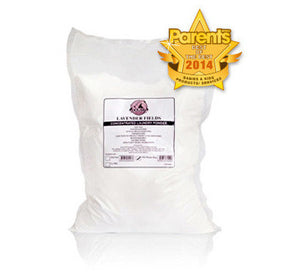 Idocare Lavender Fields Concentrated Detergent (7kg Refill Pack)
Our new bulk refill pack now offers even greater value.  Get up to 210 full loads, or 280-315 washes for baby clothes.
Wonderful for both Front load and Top load machines
Concentrated Laundry Detergent dissolves quickly and completely for a clean wash
Great for cloth diapers
Outstanding stain removal power yet eco-friendly
A fresh Lavender scent, your clothes will look and feel great
Product Details:
Optical Brightener Free
Low Suds (great for front load machines)
Anti-odor formulation great for indoor drying
Outstanding stain removal
Perfect for cloth diapers

No Fabric Softners
No Active Enzymes after washing
Scent is distilled from essential oils
Cloth inserts stay absorbent
PARABEN free
Phosphate free
NPE Free
No Optical Brighteners
Plant based ingredients
Biodegradable
Not tested on animals
Ingredients:
Plant based fatty alcohol ethoxylate
Sodium carbonate
Sodium metasilicate
Sodium perborate monohydrate
Sodium sukphate
Enzyme protease
Biocides: Hydrooxydihlorodiphenyl ether & Alkyl diamethyl bezyl ammonium chloride.

Directions:
For Adults
Do not pour directly onto clothes, instead put the powder into the assigned compartment of your washing machine.
Simply mix ¾ scoop in the water for 1 full load.
For overnight soaking to treat stubborn stains, or for hand-washing, allow powder detergent to fully dissolve in water before adding clothes.
Our Detergent comes in a box with a convenient flip-top, making it a cinch to use
For Babies
Use only 1/2 scoop for a full load of baby's clothes/ diapers.
For stubborn stains, soak with 1 tspn of powder in a bucket for 1 hour before washing in machine.


Customer's reviews:
The lavender washing powder deodorizes AND removed build up from the fleece so that for the first time in a long time, my pocket diapers are working properly and staying dry! Really glad for this great product that is affordable and good for the environment, as well as good for baby :)