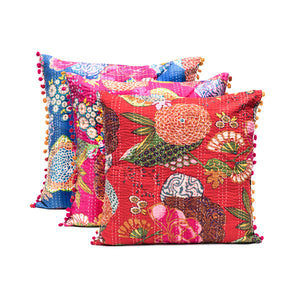 Jogi Cushion Cover + Pillow Insert
PRODUCT DESCRIPTION

This colorful 100% cotton, screenprinted fabric cushion cover has a charming wooden button closure and Pom-pom lace details on two sides. Assorted colours. 


Materials: 

cotton, synthetic fiber

Item code: UNCC 509

 

  Fair Trade 

  Sustainable 

  Handmade

  Funds Community Development

 

 

 

 

 

Dimensions: 18" x 18"

   Upcycled Sari
Choose from these two patterns:
Red (Front)
Red (back)
Purple (front)
Purple (back)
Stitching
Artisans in urban northwest India sew upcycled denim, sari fabrics and cotton to create Matr Boomie's beautifully repurposed and stylish accessories. The fabric is sourced from cloth collectors' remnants and discards, checked for defects, washed and prepped for a new life. Men take the bulk of the machine stitching work; women work on finishing, traditional kantha embroidery and hand stitching. Many fabrics created and embellished by other artisans that require complex stitching are sent to this community for fine finishing details. 
Matt Boomie's stitching artisan partners come from a low-income Hindu community. Steady, reliable, fair income and skills training and development have enhanced their positions economically and socially. Many of the artisans' children are in school, and the families can now attain higher education.