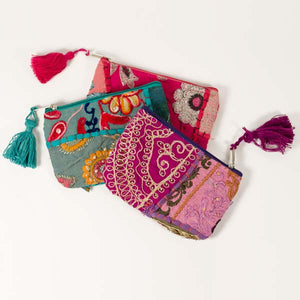 Colour Splash Coin/Phone Purse (Assorted)
PRODUCT DESCRIPTION

Carry phone, cash, lip balm, cards, keys and more in this tidy and gorgeous embroidered patchwork purse. Each bag is unique and comes in assortment of colors (pinks, purples, teals, blues, raspberry and black). Matching tassel pull on zipper closure. Exclusive design. 

Materials: 

upcycled Indian textiles, cotton, plastic zipper

Item code: UNB 615

 

  Fair Trade 

  Sustainable 

  Handmade

  Funds Community Development

 

 

 

 

   Recycled/ Upcycled 

Dimensions: 6" x 4"

   Upcycled Sari
Choose from these patterns (limited qty, only 1 each!):
Passion (front)
Passion (back)
Turquoise (front)
Turquoise (back)
Vigour (front)
Vigour (back)
Teal (front)
Teal (back)
Love (front) - sold out
Love (back) - sold out
Blue (front)
Blue (back)
Colours in the Night (front) 
Colours in the Night (front) 
Forest (front)
Forest (back)
Get a set at a special price!
Set of 4 - $46.50 (U.P. $51.60)
Set fo 8 - $82.60 (U.P. $103.20)
Indicate your choice of patterns in the remarks column upon check out for set of 4.
Small Producers
  Block Printing
  Paper Marché
  Lacquer Craft
  Patchwork
Matt Boomie support fair trade to provide help for those who need it most. They want to see their artisan partners succeed and grow through fair trade, and are happy to work with small groups that show potential. One of Matr Boomie's smallest groups grew from 15 members to 100 in a three-year period; along with the growth in members came a 25% increase in income. Artisans no longer feel the need to keep children home to work and earn extra income for their families. More children are encouraged to stay in school longer, which is driving average literacy rates up. Artisans are also embracing education for themselves, with many adults enrolling in night classes. More girls are continuing their educations, strengthening female voices and status in the community. Artisan now enjoy benefits such as paid sick and holiday leave, comfortable and friendly work environments, and respectful and dignified trading relationships.