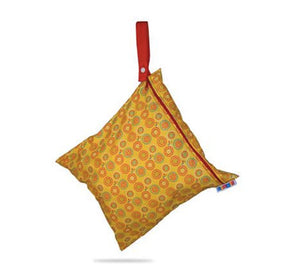 Fabulous Wet Bag (Sunny Yellow)
- Small: 10 x 12 inches (25.4 x 30.4 cm) - S$22.90

- Medium: 14 x 15 inches (35.5 x 38.1 cm) - S$28.90
- Large: 24 x 24 inches (61 x 61 cm) - S$45.90

These small and medium Bummis Fabulous Wet Bags are practical accessories for any cloth diaper system. You will love these conveniently sized bags in Bummis' bright and crazy Super Brite fabric.

They are chic and convenient and very colourful! 

Double seamed on 3 sides, these bags are designed and constructed to be durable and absolutely leak resistant. Use them for anything – wet diapers, bum wipes, swimsuits, cosmetics, travel bag, etc.

The small and medium Fabulous Wet Bags have a snap-able handle for strollers and a zipper for odour control.
The generously-sized (24" x 24") Large bag comes with two closures – a zipper and a drawstring. Use both to ensure that odours are contained in the bag. The drawstring can also be used to hang the bag or to cinch it around a pail.

Turn inside out for proper washing. Wash and dry with your cloth diapers at normal temperatures in washer and dryer. Please avoid fabric softeners, chlorine bleach, or any other whitening agents. They should not retain odours, and if they do, please call us toll free for help or check out the residue information on our website.

The Fabulous Wet Bags are made with careful attention to detail in Bummis' own factory in Montreal, so that good quality and fair labour practices are assured. The fabrics and components Bummis produce with are all sourced in North America and are guaranteed lead, phthalate and BPA free.

Bummis lovely minimalist packaging is environmentally friendly , made of chlorine free recycled fibres.


Customer's Reviews:
Your Bummies wet bag is a great product because it works! I have tried using 2 times (to the pool) and no dripping so far.

Available in 4 fun prints! 



REVIEWS 
LOVE IT!
, February 8, 2012
Amazon Verified Purchase
This review is from: 

Bummis Fabulous Wet Bag, Green, Large (Baby Product)
I have only used Bummis brand wet bags, but I love the large size the most. I also own one each of the small and medium. This is the second large size that I have purchased to use at home so when one is in the wash I have a spare to use. I have never had problems with the zipper, I don't use the pull string at all. I just put the wet bag in a medium sized trash can with no lid and unzip/rezip it every time I change a diaper. No smells, no leaking at all. I wash my diaper every day or two...just whenever it gets full. Very pleased with this product.
Best Wet Bag EVER!!
I purchased this wet bag (and admittedly didn't know much about them at the time) and I absolutely love it! It contains all the messes when we are out and about, and washes so nicely. I love this bag! -Erin French (2010-12-05 13:47:26)

Simply Fabulous!
I received this wet bag as a win on the Bummis blog Cloth Diapering Surprise giveaway and am SO glad that I won. I have been using a different brand's drawstring closure bags and they simply do not compare. The Fabulous Wet Bag is, well, fabulous. It is sturdy and holds many more diapers than the others do, and has become absolutely indispensable to our household! Thank you, Bummis! -Stephanie P. (2010-10-27 15:30:55)

Great bag!
This bag rocks -- very good quality. I was skeptical that a wetbag could stand up to being washed w/ my diapers every other day, but this bag does! This bag looks like new after being heavily used and washed for 7+ months! I just wish they made it in a large. -Kristi (2010-08-06 23:07:17)