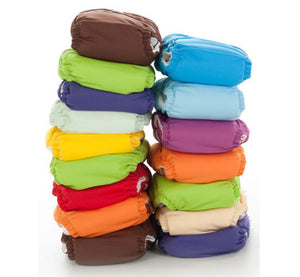 Fuzzibunz One-Size Cloth Diapers
FuzziBunz One Size are the most innovative and adjustable one-size cloth diapers on the market today!
Adjust the diapers to fit 3-16 kg babies and get a snug fit every time with button-adjusted waist and leg casings. The leg casings adjust to 8+ settings and the waist adjusts to 4+ settings. Never before has a pocket-style cloth diaper been SO adjustable!
After 10 years in the cloth diaper industry, Fuzzibunz offers precision and durability of snap closures.
Stuff and go convenience - the pocket design allows you to cusomize the absorbancy based on baby's needs
Most economical cloth diapering choice since diaper fits baby from birth to potty training
Durable fabric makes for easy wash and wear
Comes with set of easy replace elastic to further extend the life of your diaper
1 year warranty
Made in the USA.
See Fuzzibunz One Size Diaper Review video:
Available in 7 gorgeous colours!
Use the FuzziBunz One-size Cloth Diapers together woth Bummis Organic Prefolds for complete ease and convenience!