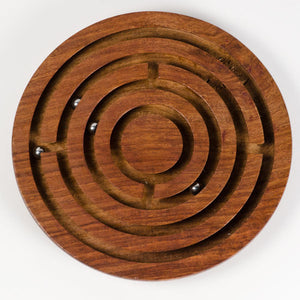 Labyrinth Game
PRODUCT DESCRIPTION

This classic game is played by maneuvering metal beads through the labyrinth. Made of hand-carved Indian Rosewood


 CHOKING HAZARD - Small parts. Not for children under 3 yrs. 

Materials: 

Indian rosewood, brass, varnish

Item code: AEH 204

 

  Fair Trade 

  Sustainable 

  Handmade

  Funds Community Development

 

 

 

 

 

Dimensions: 6" diameter
Wood Craft
The traditional craft of woodcarving plays an important role for many Muslim artisan communities in small towns and agricultural villages in north central India. Each artisan uses hand tools to skillfully carve blocks of sustainable Indian Rosewood into fine treasures. This art form requires mastery to create the intricate carving, filigree and inlay work. Many of the patterns are deeply influenced by cultural motifs from Muslim dynasties that ruled the region centuries ago. Artisans finish and detail each item with natural wax and non-toxic paints.
Matt Boomie's woodcraft partner artisans belong to collectives in the region that provide basic services and development solutions to enable self-sufficiency, including healthcare and education. Literacy rates and income opportunities are quite limited in the area, so woodcraft production is vital for community livelihoods. Most woodcraft artisans are men and some women work in finishing and production assembly. Our main focus for their continued development is sustainable income generation, skills development and raw material allocation.
About Matr Boomie
Mahatma Gandhi famously said, "The true India is not to be found in its few cities, but in its 700,000 villages. If the villages perish, India will perish too." Matr Boomie's partnerships with thousands of tribal artisans in villages throughout India has quadrupled their monthly incomes.
Rural Development in India
Many of the rural regions of India are agricultural, which means villagers migrate to cities for seasonal, exploitative work. Other areas are too dry and arid to support agriculture, so artisans rely solely on craft production for income. Living wages, however, are only the start to a true fair trading partnership. We also seek to improve artisans' quality of life and ensure sustainability of their craft. Social development programs such as training, education and health care go hand-in-hand with environmental impact projects such as recycling, water filtration and solar-powered energy. Conserving resources and caring for the environment ensures sustainable employment can be passed down through generations.