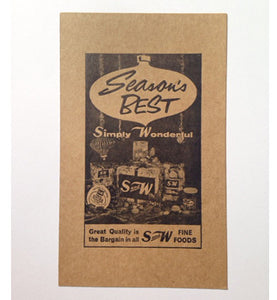 Letterpressed - Postcard (Season's Best)
Get nostalgic with these vintage prints letterpressed on thick kraft paper.
Back of cards are minimally printed.
Measures 12.5 cm by 20.5 cm.
Handpressed locally by The Gentlemen's Press.
Get a set of 3 of any same-value postcards for $12 (please indicate your choice).
Note:
Handmade products are individually made by hand. No two products (even in the same prints) are exactly the same. The slight variations are what make them unique.
Customisation:
Do you have a need for customised letterpressed cards? Talk to us (bgosingapore@gmail.com) and let us know how we can assist you.