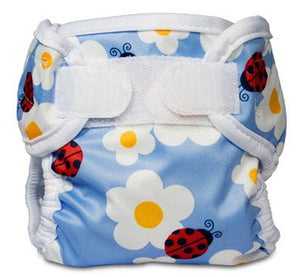 Super Whisper Wraps
The Super Whisper Wrap is a VERY dependable cloth diaper wrap with a proven track record. A mainstay in any 2-piece cloth diaper stash, it combines functionality and the latest in cloth diapering technology with fun prints. This premium but affordable wrap not only looks marvellous, but also has a remarkably good fit on most babies.
The generous cut of this wrap makes it suitable for any type of FLAT, PREFOLD or CONTOURED insert, or any type of FITTED cloth diaper.
It features a durable waterproof layer concealed within 2 layers of ultra soft polyester fabric so that no laminate touches your baby's skin. This marvellous waterproof fabric is durable enough to withstand the rigors of industrial washing, but it's also super comfy for baby.
Use the Super Whisper Wrap together woth Bummis Organic Prefolds as well as Bummis Flushable Liners for complete ease!
Special features of the Super Whisper Wrap:
Very adjustable. Hook and loop closures with an innovative overlap design that ensures a custom fit on any baby.
Durable, heavy-duty elastic around legs and tummy that will not wear out with repeated washing.
Soft, smooth polyester knit bindings for a comfortable, stretchy fit, and a leak-proof seal.
Super-sized fold-back wash tabs to protect your laundry from rogue attacks by hook and loop closures.
Generous sizing means fewer wraps to buy, while still assuring a great fit.
Of course, as is true of all Bummis wraps, the Super Whisper Wrap is made with careful attention to detail in our own wonderful factory in Montreal, so that we are assured of good quality and fair labour practices. The fabrics and components that we use are sourced in North America and are guaranteed lead, phthalate and BPA free.
Available in 9 fab prints: