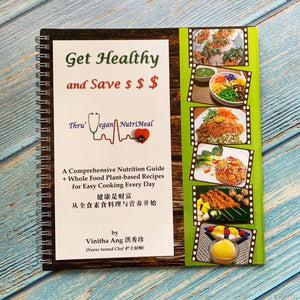 Vegan NutriMeal Cookbook
Nurse-turned-nutritionist Vinitha Ang of Nutrihub Culinary Arts has published a vegan nutrimeal cookbook packed full of nutritional facts and how to cook simple-to-make meals.
This cookbook consist of four parts:
Part 1 educates readers on the toxins in our foods and the right mindset in a healthy diet.
Part 2 consists of 12 NutriMeal breakfast recipes.
Part 3 introduces whole food plant-based diet and answers some questions on important elements in the diet.
Part 4 consists of 12 lunch and dinner recipes
Part 5 consists of 8 weekend treats and desserts recipes
The cookbook is ring-bound and props up nicely on its own. The recipes are translated into Chinese and followed with pictures that are well-explained. 
It is a wonderful gift for everyone keen in improving their health through diet.